Special Events
Diamond Park/Alameda Park Reservations
For special events you want to host here at Alameda Park or Diamond Park please click here for the application.
You can contact the office at 724-284-5383, or email Alamedapark@co.butler.pa.us
Family Events
Butler County Parks & Recreation: Haunted Trail
Friday, October 23rd & Saturday, October 24th 7:00 PM - 10:00 PM
Masonic Shelter, Alameda Park Butler, PA 16001
Join us for a night full of ghouls, ghosts, and goblins running around the trails of Alameda Park!
The Haunted Trail will be taking place on both Friday, October 23rd and Saturday, October 24th from 7:00 pm to 10:00 pm!
We will be taking registrations at the Masonic Shelter starting at 7:00 pm on both nights of the event. The price is only $5.00 per person! 50% of the proceeds go to PACT (Prayers Answered Charity Tournaments)
Trail leads will be taking a new group through the trails every 10 minutes!
While this is a family friendly event we strongly suggest not bringing a stroller or wagon onto the trails.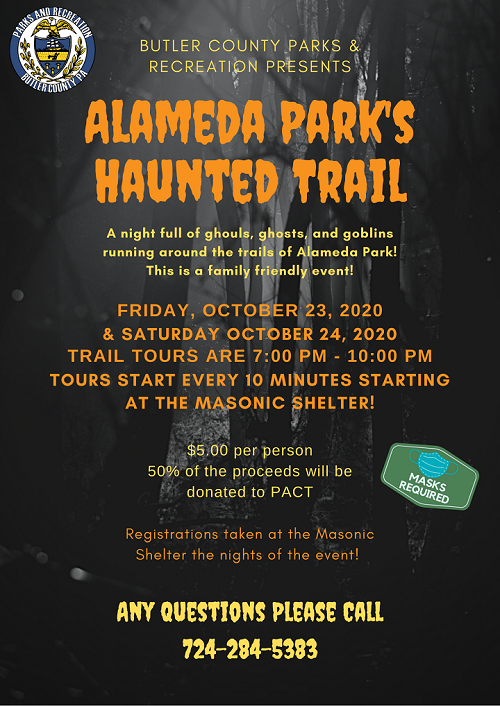 Santa's Workshop at Alameda Park
Friday, November 20th 6:00 PM - 7:30 PM
Odd Fellows Loop, Alameda Park Butler, PA 16001
Join us for a night in celebration of the Holidays. Butler County Parks & Recreation will have the Odd Fellows Loop of Alameda Park lit up with Christmas lights for everyone to enjoy!
All of those registered will receive a gift bag full of Holiday Goodies and Crafts from Santa himself!
Due to COVID-19, the cost is only $7.00 per child. There will be no Late Fee Registrations this year. Please note that there is a 2.65% processing fee for registering online.